Case Studies | SEO In Practice
Before we look at some examples of Ranking through good SEO work, I have to make something clear, and if you already know this then please bear with me while I explain it to others…
When you see pages ranked at the top of Google, Bing, Yahoo etc, for keywords that have any value, as in search volumes, they do not appear there by accident or some form of cyber evolution – they are there by design. That's right, they did not just 'float to the top' of the rankings – good SEO put them there!
Are there exceptions to this rule? Of course there are, just a few, granted. But the fact is that although there are exceptions to any rule – you cannot make a rule out of an exception; and the 'rule' in this case is that to get to the top, you need somebody who knows the score to put it there.
Ok, now that's clear…..
When it gets down to it, SEO is like everything else – talk is cheap (mostly!) and like everybody else I could go on and on about how great I am

However nothing speaks louder than money or action – and the correct application of both is the ideal solution. Here below are just a few examples of what can happen when the talk and the investment in appropriate action, leads to successful rankings in Google.
For the sake of client confidentiality ( and common sense)  the keywords have been hidden from the search bar, however they are the main keyphrases I was asked to get to the top of Google (BOOM !! – Job done)
I should also point out that this work was done around the time of the Hummingbird and Panda 2.1 update, and these pics were taken as late as 29th November 2013 – so the rankings are VERY relevant for today.
These business are local to Edinburgh – where I happen to stay; however 'Local SEO' simply means local to your area or city, and the same results can be reproduced no matter where on the planet you happen to live or operate.
Case Study no1:
Name: EXCURIA QHSE
Website: www.excuriaqhse.co.uk
This company which specialises in the fine details of Health and Safety legislation and management, asked if I could rank their main keyphrase for them. As it stood they were nowhere on the first ten pages of Google, and so they lacked visibility in what is a very competitive marketplace.
Previously they had been advised that they would just 'float to the top' ( yea, remember that?) of Google for the keywords that matter to them! This is of course utter nonsense as we have just read, and after a consultation with the client where I examined their business and the levels of competition for their keywords; we decided on primary and secondary keywords to work on.
The results you see below were actually accomplished in under 1 week for the primary keyword, and I am happy to say that they are now number 1 for several secondary phrases as well as front page for around 8 more.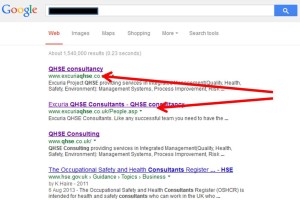 Needless to say that this client was delighted with the results, as this testimonial on Linkedin shows..
James is a fantastic SEO Consultant who was able to get our web site onto page one of Google within four days. He is great to work with and expert in his IT knowledge and understanding on how the network is continuously evolving. I have no hesitation in recommending James to any client.

Jim Green Managing Director Excuria QHSE Ltd.
Case Study no 2:
Name: S O S Shoe Repairs
Website: www.sosshoerepairs.co.uk
This is an Edinburgh business that has been established for over 25 years in Bruntsfield Place. There main business is shoe repairs and key cutting on a while-u-wait basis. The proprietor George Murrie wanted to rank on Google to enable new students to the area (a large part of his customer base), to be able to find him quickly and easily; thereafter to become regular customers for the duration of their stay in Edinburgh.
You can see from the image that he is indeed no 1 for his main keyword – and he even has my wee smiley face to add the human touch (a simple but effective ranking tactic).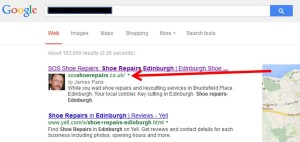 Testimonial:
Thanks a lot James. Just a quick note to say that I am delighted with the results of your SEO work and I am now appreciating the benefits of it on a practical level, with increased phone inquiries and real customers coming through the doors as a result. I will certainly recommend your services to my business friends and collegues.
Case Study no3:
Name: Street Church Edinburgh
Website: www.streetchurchedinburgh.co.uk
This is a christian website that promotes preaching the gospel in the streets of Edinburgh, mainly around the high street. This is a new site that has only been live for a few months, but is already ranking number 1 for several primary keywords around the 'church' theme, as well as numerous secondary keyphrases – not bad, considering the number of churches in Scotlands capital city!
Thanks again for your great work in ranking our site at no 1 James, your SEO work is first class and I would not hesitate to recommend you to any business seeking higher rankings on the Search engines. James Paris is the man to take  you to the top of the first page and keep you
there!
There you have it, just a quick overview of some of my recent SEO work.
If you would like to know more, or would like to discuss what could be done for your rankings, then please do not hesitate to Contact Me, James Paris, and I will be happy to discuss your requirements.
Google+